People for Tomorrow
Headlining the 6th ADCE Festival were the lecture series titled 'People for Tomorrow', where people who employ their creativity for good, who believe tomorrow's problems will not exist if we start today, explored & discussed the topic.
José Miguel Sokoloff
Global President, MullenLowe Group


"You Can't Change That"
Time and time again we've been told 'advertising can't change the world'. Critics have said: 'You can't save lives', 'You can't change laws', 'You can't bring peace to the world'. But maybe we can.

Drawing from his own experience, Sokoloff will explore how creativity is our most powerful tool for inspiring and affecting change.
Laura Hunter
Creative Director, Futerra


"Creativity and The Climate Emergency"
We've all read the headlines, and the science is clear: we're facing an unprecedented global emergency.
It's time to unleash our imagination and creativity to tackle humanity's greatest challenge.

In her talk, Laura Hunter will share her thoughts on how we as creatives can rise to the challenge and get to work on the most important creative brief there is.
Alexander Schill
Global CCO, Serviceplan Group


"Innovation by Design"
How do you create an environment that spurs innovation?
Alex Schill explores this question by talking about Serviceplan Innovation, a special unit that focuses on close collaboration with startups to create products and brands that make a difference, such as the innovative Dot devices for the blind and visually impaired.
Laura Visco
Deputy Executive Creative Director, 72&Sunny Amsterdam


"The Importance of Creative Altruism"
We often think about volunteering in the most literal way. What happens when creatives donate their hours for causes they care about?
In this talk, Laura Visco will take us through the work she did entirely pro bono, on the side of work, and how some of the passion projects that have been nurtured at her agency changed her view on the industry and the future of creativity.


José María Batalla
Founder & Creative Director, La Casa de Carlota & Friends


"Creative Activism"
It is time to change our industry and introduce purpose and activism in our way of working and thinking. Creativity has to be hooligan enough to revolutionize this industry and make our work much more meaningful, human and transformative. Using the power of creativity to improve people's lives and the planet should be our way of becoming agents of change for this capitalism that has become absolutely conscious.


Marian Salzman
Senior Vice President, Global Communications, PMI


"Change-Making Movements: How the Creative Class Can Move the World"
In her talk, Salzman will address the vital role of creativity-powered movements in evolving consumer behaviour, influencing action by policymakers and harnessing the power of the people to create meaningful change. She will also address her latest change-making crusade: #UnSmokeYourWorld
Oskar Metsavaht
Founder & Style Director, Osklen

Elements of Style - an expression of beliefs, vision, concepts, art and design

Is the multi-platform expression for an artist, as we are seeing nowadays, good or bad for his or her professional career? Will the academy and market establishment be open to it? Or become even more segmented and restricted?
Lucy Black-Swan & Andrés Colmenares
Founders, IAM (Internet Age Media)


"The Everything Manifesto: A Thought-Experiment For The Next Billion Seconds"
Presenting a proposal of an evolving actionable manifesto that aims to encourage collective critical hope, plurality and solidarity between citizens and organizations, as we all get ready for 2020: a new decade that will demand an exponential growth of the responsibility and accountability by everyone.
Jamshid Alamuti
Member of Advisory Board & Co-Founder, Pi School


Creativity in its Purest
It takes some 100 bright creative minds, 9 days of incubation and 7 months of remote collaboration, research, debates and exchange of insights to set a new norm for what creativity can be, what it can do and how vital for our life and planet is. Follow the journey of this year's Creative Incubator with the program designer and 2 participants on the festival stage, where they will share a sneak preview of the white paper produced.
Núria Vila
Graphic Designer & Art Director


Small Gestures are Powerful
70% of the impact of any piece is decided in the first phase, that of the design. Seen from another point of view, we as designers, can be the generators of change. Núria will show a small case in how the waste generated by a customer was converted into the ink of their packs and later reintroduced back into the chain.
Julián Zuazo
Independent Film Director & Creative Director


From the Sidewalk to the Catwalk
Julián Zuazo will present TopmantaTopmodel.org, a non-profit platform for creativity, art and performance where talented young African immigrants play the main role as models, actors or dancers. "It's not only about a better future for these young talents but about changing perceptions and eliminating prejudices."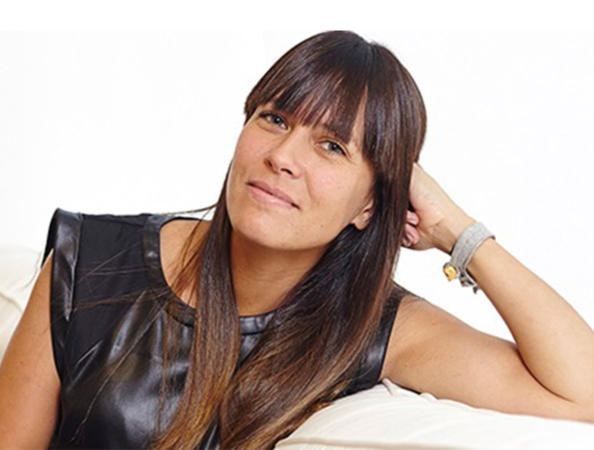 Fernanda Romano

Marketing Executive Director
Alpargatas
Brazil