To respond to some of the core challenges of advertising and design organizations, we have developed the Creative Incubator programme in partnership with Pi School. The programme looks at different triggers that could transform the business model and organizational design of the creative industries.
How do agencies interact with technology, such as virtual reality, AR, artificial intelligence, machine learning? How do they embrace integrative concepts such as consultative, solution driven, data driven, etc.? What are the potential future needs and demands of the clients and their consumers? How can they stay ahead of the competition and increase their potential impact to the advertising eco system?
Key information
Areas of focus
This programme looks at the various triggers that are generating deep transformations within the Communication Industry. We answer questions such as "where is the industry heading?", "what are the necessary updates and changes agencies need to make in order to stay ahead of the curve?", "how can agencies interact with technology such as Artificial Intelligence or Machine Learning?", "how can they embrace integrative, consultative, solution-driven or data-driven concepts?" and "how does the need of our clients and their consumers drive the questions above?".
The programme incubates participants' ideate and concepts. It provides space for debating and test-run of the different solutions and generates models to redesign the creative industry.
Participants
Who fits the profile? Applicants from any department of a creative organization, creatives from other types of organizations, and freelancers. Professionals involved with transformation, consultative creative solutions, and technology integration, within the Communication and Advertising Industry.
Cost per module
There are 30 grants available for each module, covering more than 80% of the cost (€ 550 instead of € 2,750). On top of that, ADCE members get a 10% discount (€ 495 instead of € 550).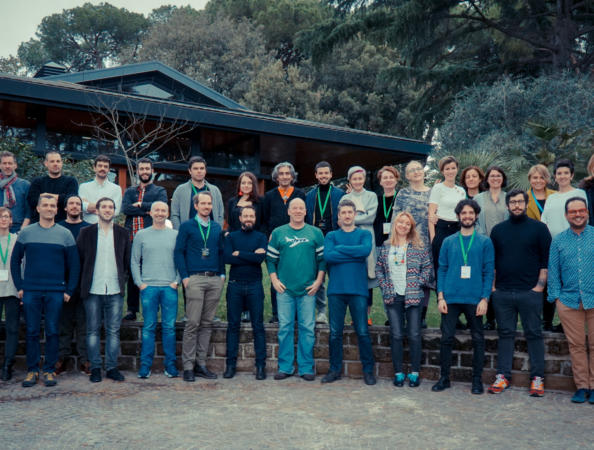 Date
28-30 March, 2019
Place
Pi-School - Rome
Date
6-8 June, 2019
Place
Design Hub Barcelona
Date
5-7 September, 2019
Place
Berlin
Past Modules
ADCE Festival - Barcelona

Session 1 / Inaugural Meeting
ADCE Festival - Barcelona