The environmental emergency and social turmoil might be a trending topic for all the wrong reasons, but creativity, with its power to touch and change behaviours, can help turn the tide if we all think ASAP, as soon and as sustainable as possible. Fernanda Romano, Marketing Executive Director at Alpargatas and Curator of this year's festival showed us that environmental and social sustainability are the main topic clients should be addressing, because neglecting that is destroying, campaign after campaign, the habitat we need in order to survive.
But because the system and behavioural change we need is not changing as fast as the climate, it is important that all sectors of economy and society act now. The good news is that creativity is a sector that can have a big impact because it can affect both industry and culture. Also, judging by the campaigns and initiatives that were presented throughout our 6th European Creativity Festival, this kind of creativity is not only possible but already a reality, and even if still minoritary, it was made clear that we need to push to make this creativity the only possible, the new normal and not the exception. 
If you missed this year's festival or would appreciate a fresh recap on how creatives in different parts of the world are pushing for a better tomorrow, read on, we have compiled the key contributions of every single speaker so their ideas (+) campaigns (●) and initiatives ( ➔ ) can reach as far and wide as they should. 
#PeopleForTomorrow – Welcome
+ "I hope this wasn't too hard as an introduction but these kids and this message is what motivated me to choose the theme for this year's festival. We can be people for the future, we can do more. I recently changed jobs and went from talking to clients to becoming a client, and as such, I pledge that I am gonna be a person for the future, I am already, and I will do my best to influence my company and the companies we work with to be better, to be more responsible and to do work that make us proud and not ashamed"
+ "66% of consumers would switch from a brand they usually buy, to a new product from a purpose-driven company. 74% of people wouldn't care if brands they use suddenly disappeared. The future consumer will make a choice based on where we stand, and we need to tell them where we stand"
Ami Hasan
ADCE President
+ "ADCE Festival is the annual opportunity for the creative community to gather and discuss the issues that matter and that should drive our work"
+ "We have reached a point where it is not only enough for us to solve clients problems, we need to tackle society's problems too. We need to start now if we want a better tomorrow"
Alexander Schill
Global CCO at Serviceplan
+ "Innovation comes from creating environments where ideas can connect, not by being in one locked room"
● Dot, the first Braille Smartwatch
+ "Collaboration is key. If we only stay in our agency we will never reach far. We promote diversity of thought by working with external design thinkers. Each project needs the right team"
● Indorse, a coding assessment platform only based on skills
Laura Visco
Creative Director at 72andSunny Amsterdam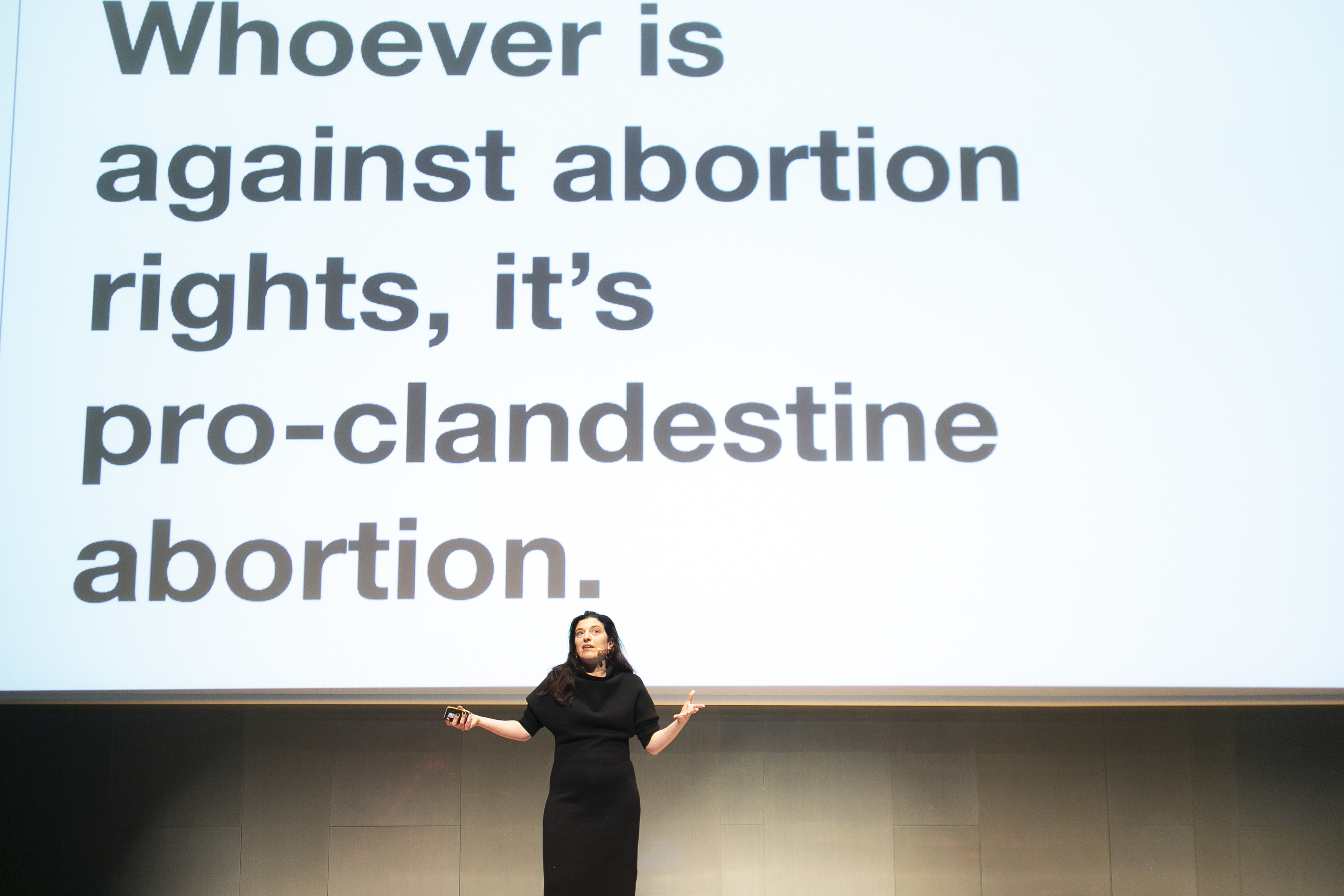 + "I believe in creative altruism, in using creativity and communication for social causes"
+ "Ideas, not logos. Causes, not egos. More empathy. Not chasing a reward. Societal profit"
● If it is not legal, it is clandestine
+ "We still live on an advertising Truman Show: we don't see men cleaning, divorced families or old people, unless you are selling dentures"
+ "When there is talk that there is little representation of women in the creative departments of agencies, the case is made always with numbers and statistics, but never talking talent. There are creative women doing amazing work, and it is very unfair that they are not known. By continuing to ignore this aspect, the narrative that women are not creative continues to be pervasive, and this can't be further from the truth"
Laura Hunter
Creative Director at Futerra
+ "Our mission is making sustainability normal"
+ "The brutal truths of the disaster we face, can be overturned with beautiful possibilities"
● Start living the Good Life Goals
+ "Don't wait for the perfect brief, push the people to do it. As David Attenborough says, we can't be radical enough"
● UN Environment Wild for Life
+ "We are facing the creative brief of our time. If advertising is creating culture, what kind of culture are we creating? We can make an impact on how people view sustainability"
➔ Imagine Better: to change the world best imagine a better one
Lucy Black Swan & Andrés Colmenares
Co-founders of IAM Internet
+ "Climate change is not an enemy we need to fight, we are causing it, we are the problem"
+ "What if we change climate change for environmental emergency?"
+ "Organisations and citizens need to address the weird implications of the design, mythologies and usages of the internet and digital technologies in the most important challenge humanity has: environmental emergency."
+ "Everything is connected"
+ "Design for solidarity, not for addiction
Jamshid Alamuti
Co-Founder & CEO of Pi Campus School and Creative Incubator leader
+ "Nature is always the best incubator"
+ "Creativity is something deeply human so we decided to look beyond humanity and explore how animals use creativity"
+ "Creatives are used to control but in the incubator they are required to embrace chaos. The process of finding the answer is more important than the answer"
➔ White Paper – Creative Incubator 2019 "How to use creativity to solve real-world problems and transform ideas into high impact actions"
José Maria Batalla
Founder and Creative Director at La Casa de Carlota
+ "We like to call ourselves the creative activism company because we put purpose before profits. It's no longer just about selling, it's about using the persuasive power of brands to tackle social and environmental issues"
+ "We appreciate people for their abilities. This means that in our company, creatives with Down Syndrome, autism or mental retardation share different projects and works with young students in design and professionals with experience in the design sector and creativity for brands and companies. Our goal is to offer to companies which come to us for projects, a surprising vision of design and an innovative, fresh, marvellous and different way of creating."
● "Original design by original people"
+ "We are the first communication company in Spain to be recognized for its commitment to people and the planet with a B Corp certification."
Jose Miguel Sokoloff
Global President at MullenLowe Group
+ "Half of the money spent on advertising is wasted. How much of the work we do contributes to results?"
+ "Advertising has the power to change people's behaviour. We must use advertising responsibly, so we can change people's behaviour for good and solve at least a part of the problem"
● Ministry of Communications and Technology – My Line
+ "Pursue just one cause. We go for so many causes. Find one problem and a solution through a product, don't try to solve the whole problem, but the part you can solve"
● Abuse Disclaimers. Aguila Beer
+ "Think big. Think long term. Always do your best work"
Marian Salzman
Senior Vice President Communications at Philip Morris International
+ "The creative class can move the world. Creativity is the world's major force, something that can drive change at every level, from a packaging to a message. Let's use it for good"
+ "I wouldn't have joined a tobacco company if it wasn't to promote a change making movement. The future of tobacco products is a smoke-free world"
● Creating a Smoke-Free Future
+ "Advertising can play a vital role with violent movements around the world. Our abilities can contribute to help those affected. Creativity is also in creating communities"
Oskar Metsavaht
Founder and Style Director of Osklen
+ "A brand is identified as luxurious if it involves so-called noble values. These, however, imply social concern and the preservation of natural resources for the next generations"
+ "When you wear an Osklen garment you show your commitment with sustainability"
+ "We need to act ASAP: As Soon As Possible & As Sustainable As Possible"
Julián Zuazo
Independent Film Director & Creative Director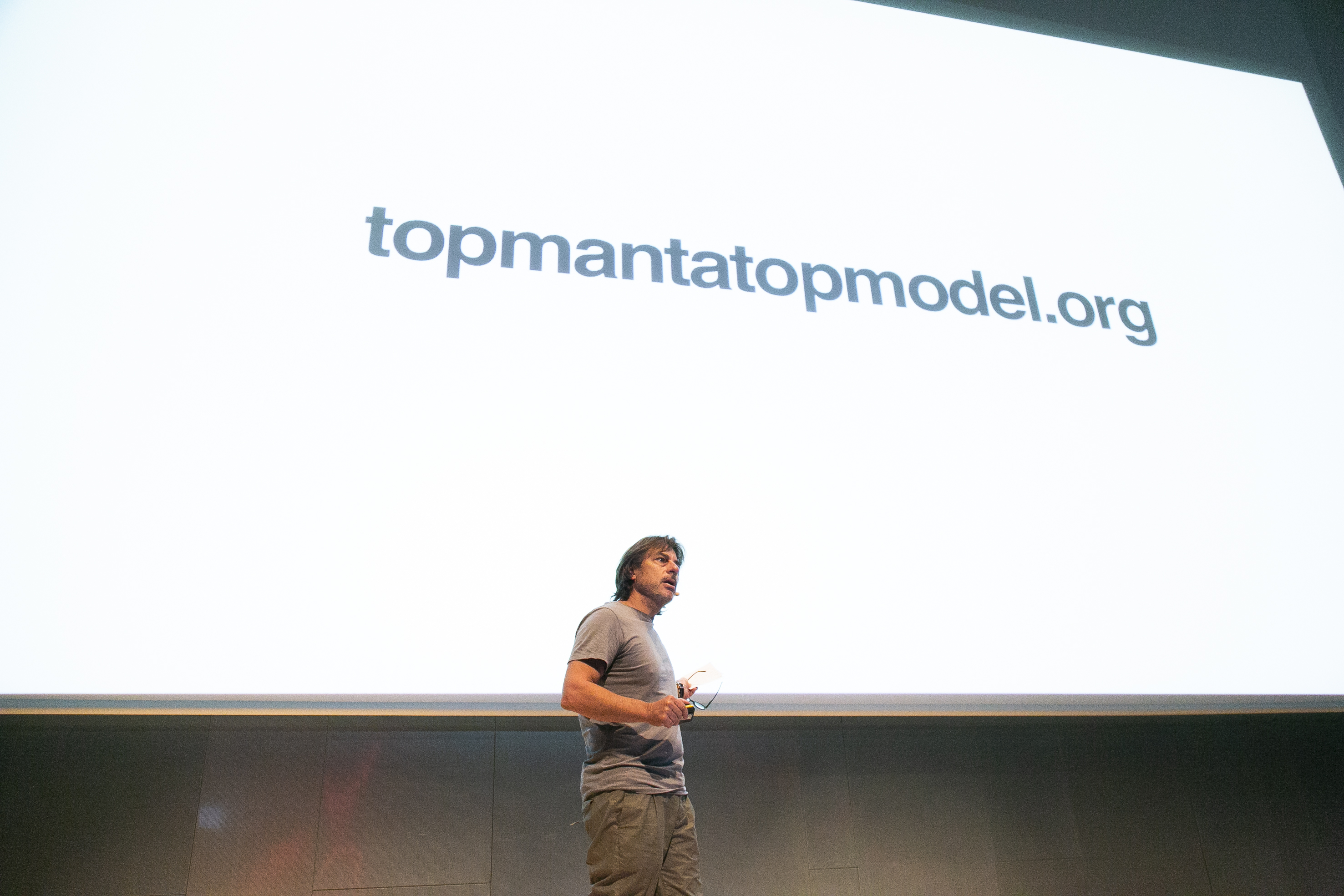 + "We are Creative Producers of Film and we are always looking for actors. We once saw them (the migrants) risking their lives on the streets and thought we could offer them another opportunity. They were great"
+ "They transmit optimism because they are optimists. They are good people that have suffered a lot to get here"
+ "In addition to providing them opportunities outside the streets, we also offer legal help to them and to potential model companies interested in hiring them, so they can work in legal conditions"
Nuria Vila
Sustainable Graphic Designer & Art Director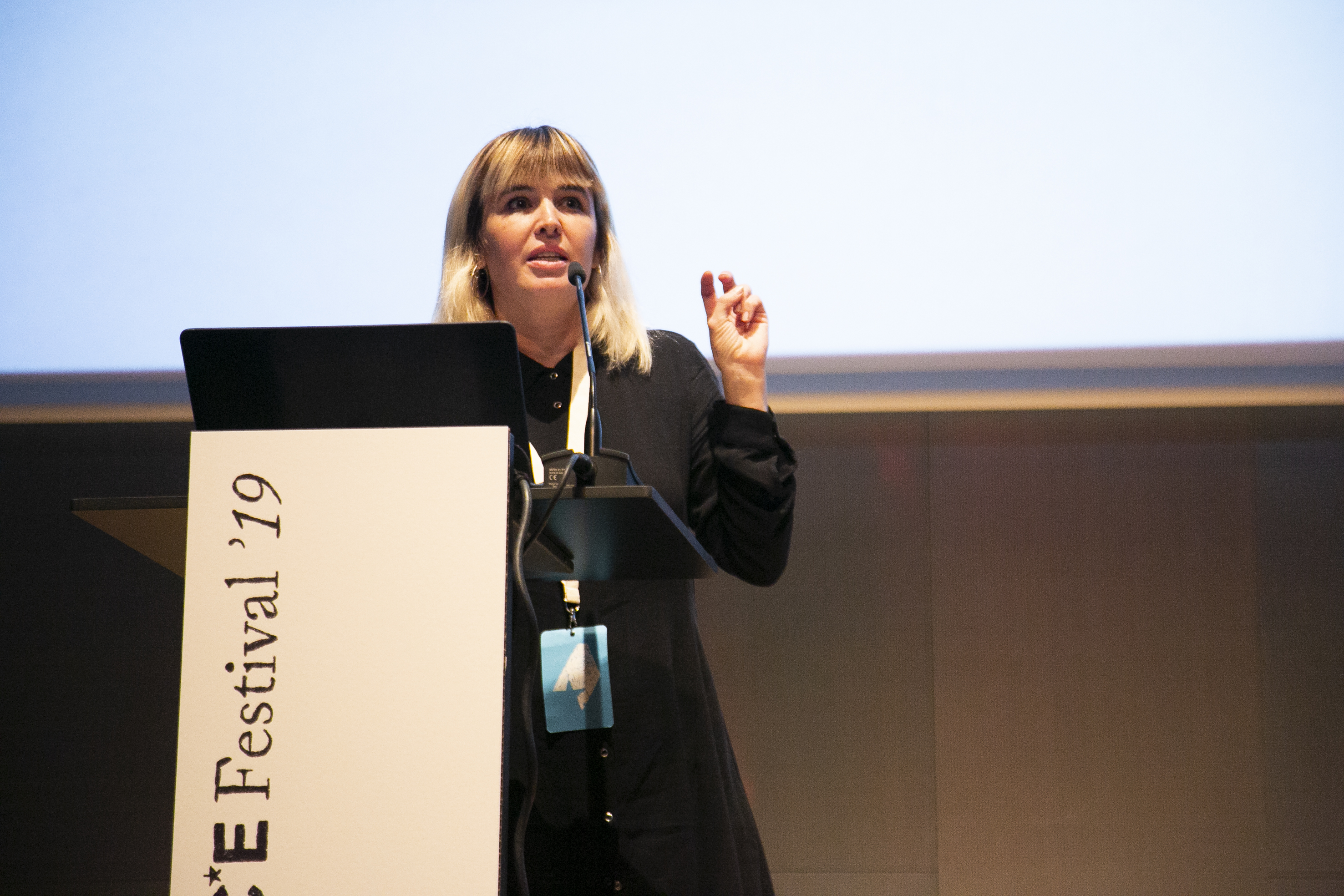 + "I design with a compromise with the environment, aiming to apply common sense in each project and working in a more sustainable and ethical way"
+ "It is possible to do things differently. If we make small improvements or changes in the way we design we can generate a positive environmental impact. 70% of the environmental impact of graphic products is decided in the initial phase, the design phase"
➔ Biodegradable packaging for Slow.mov Specialty Coffee Roasters, printed with ink made from their own waste (coffee grounds)
Live Painting
During the talks and breaks, we also counted with a live painting installation curated by Nuria Vila in which the illustrators Olga Capdevila, Javi Royo, Pol Montserrat and Clara Tanit inspired us with brushes rather than words. 
Here are some pictures of the process and the final results of the murals they painted contributing their visions for a better tomorrow.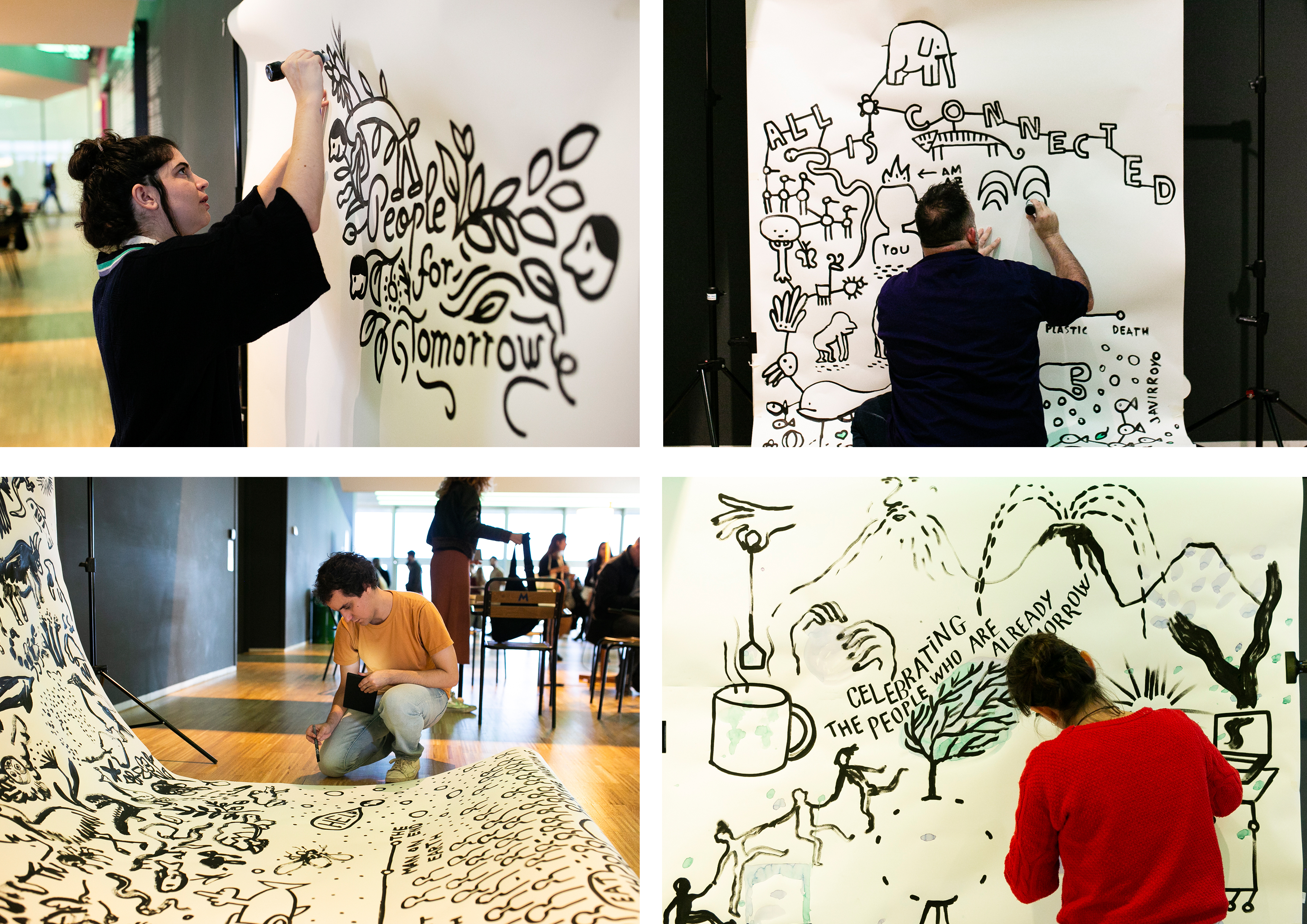 High Potentials for Tomorrow
We would also like to give a shout out to the 25 young creatives selected by HP Albrecht for their High Potential: Tessa Sima, Lukas Thüeringer, Sergio Conches, George Kirkpatrick, Imad ElRayess, Paula Guallar, Paula López Nuno, Merlin Aledo, Adelina Gravila, Margrét Aðalheiður Þorgeirsdóttir, André Peixoto, João Araújo, Giuliana Lo Porto, Marina Mrvka, Catarina Araújo, Rita Esperjesi, Marie Guirlet, Rinee Shirke, Brandon Bradley, Matilda Diletta, Marc Vela, Julian Ehrenstrasser, Felix Gil, Jessica Rees and Fardoe Ruitenberg.
Their strong presentations demonstrated that they are the #PeopleForTomorrow the industry needs. The industry, represented by Ogilvy, Serviceplan, Heren Loebas, Voss + Fischer, ISD Group and The Wunderwaffe also showed their commitment to social and environmental values presenting their work to them and afterwards, they were able to respond to their portfolios in a frantic speed-dating.
Workshops
Creative people are people who do a lot of thinking but also need a lot of action, so after a morning of stimulating talks, our attendants spread around the Disseny Hub venue for a variety of workshops. This is what they did in each of the workshops:
How to cocreate without P*st-it and G**gle with Ian Gehlhaar, Fail Fast
As Alexander Schill from Serviceplan highlighted in the morning, innovation doesn't come locked in a room. Ian Gehlhaar, Experience Design Director and Founder at Fail Fast is sure about that and invited the participants this workshop to engage on a sensory walk through the streets of Barcelona with the aim of prototyping ideas to solve a major social challenge: improve the lives of homeless.
Taboo Materials with Robert Thompson, Materfad
The overuse of certain materials taking into account its effectiveness rather than its environmental impact has pushed the planet to the brink of collapse. Robert Thompson, Specialist in Materials Training and Creative Application of Materials for Innovation at Materfad, showed how inconceivable materials like urine, poo and hair are paving the way to generate more sustainable options.
Welcome to the Imagination Age with Patrizia Boglione, Translated
Patricia Boglione believes that one of the challenges of the upcoming era is how to implement the imagination process within the industry and how to transform creative jobs in real value for society, the economy and ourselves. In her workshop, she showed how Creative Personal Branding can help us to re-imagine our talent and thrive in the Imagination Age.
Future Safari – Exploring Innovative Agency Models, comOn & Galp
Filipe Macedo travelled more than 50.000 kilometres last year to find out how the agency of the future might look like. He visited 50 companies that are currently re-thinking the value an agency can deliver, experimenting with bold new organizational designs and diversifying what we make and how we work. On this workshop, he shared the learnings and insights from this 3-month journey and together with Pedro Pereira they led the participants use them to prototype radically new models.
Future Food Scenarios with Elsa Yranzo, Creative Food Studio
Our current food system is highly unsustainable, so thinking on future food scenarios can help us inspire, imagine, create, design and conceptualize a better future for food. Led by Designer and Art Director Elsa Yranzo, participants worked in groups questioning the current production, distribution and consumption of food and designing a Future Food Scenario.
Wdym? With Nate Agbetu & Ayo Fagbemi, Play Nice
Wdym? stands for What do you mean? and it is the simple question that Nate Agbetu & Ayo Fagbemi asked the participants of their workshop and any participant of the community engagement activities they organise under their social entreprise Play Nice. Their aim? To give  people simple tools to make stuff and express their message in the simplest form so they can share what they really care about.
"Viva la Vulva" wins ADCE Awards Grand Prix
It is also remarkable that the Grand Prix of this year's edition of our Awards, which was unveiled together with the gold winners in a fun ceremony hosted by Mich Micenmacher to close the festival, was awarded to "Viva la Vulva", a campaign with a powerful social message which hits against body shaming and celebrates the diversity of vulvas urging people to love a female body part that is often censored.
Check the complete list of winners here.
Stay tuned
Intense, uh? If you wish you had been there, keep an eye on us and don't hesitate to join us next year. It might seem difficult to top up this amazing edition but only one thing can beat the creativity of our community, and after this event, it seems clear we will protect it with more creativity.